Thinking of Running a Lithium Battery for my Minn Kota Terrova 24v Trolling Motor
There definitely has been a huge revolt within the muscle car community on lithium battery powered muscle cars... If you've seen the hundreds of anti-electric car videos on Instagram, Facebook, and YouTube videos you know exactly what I'm talking about...
I'm definitely not one of those people! Yes I will extremely miss the V8 when it is discontinued, I will miss modifying my muscle cars with incredible aftermarket power adders like superchargers, turbochargers, nitrous, custom exhausts, custom head and cam packages, etc... But what I won't fucking miss, is once the stinky 2 and 4 stroke powered boats disappear off the water and get replaced by electric motors. Yes the 4 stroke motors are much cleaner... But still, there's a lot of 2 stroke motors still roaming the water ways on St. Clair and my boat is one of them, which is still equipped with a 2 stroke 50 horsepower Merc! I have motion sickness, even just getting a whiff of my the fumes my motor puts out, it triggers my motion sickness a little. Just about every time I go out on rough water days, I pop a Dramamine. Think of how convenient it will be being able to charge your electric boat motor right from your boat dock or garage, rather than constantly relying on a overpriced gas station out on the water, along with no longer having to smell the fumes from this old archaic combustion engine technology... People may think I'm a pussie for even mentioning this, but if you aren't aware, each year people die and get sick on boats due to carbon monoxide poisoning! I think a lot of the people that temporarily get sick go highly unreported...
People are buying into this popular fad of constantly ragging on lithium powered anything, even lithium powered lawn mowers, some are kind of losing the concept of how convenient having a lithium battery on their fishing boat may be...
Right now, I'm contemplating on equipping my Crestliner Super Hawk with a 24 volt Minn Kota 80 lb Terrova with spot lock and i-pilot link to work with a Solix 15 equipped with Mega 360, problem is the battery compartment on my Crestliner Superhawk is small and only made for "one" 12 volt battery, not "two" lead acid 12 volt batteries... However with the new lithium battery technology, if you do your research, you'll see there's new "single" Lithium 24 volt batteries being sold on the market that may fit this small battery compartment, making it very convenient for saving space. Not only that, but these new Lithium batteries are rated to last 8-10 years and 3000+ charges versus the lead acid batteries that only last a year or two if you run a 80lb+ trolling motor.... They also seem to last longer out on the water on a hourly basis... And if you do your research, you'll find there's other lithium battery companies that are sold for half the price of Dakota batteries, which are being promoted big time on Facebook right now! Down below is a 60Ah capacity battery which probably won't last long, however remember these batteries are half the weight, they are easy to pull out and replace when you're out on the water, especially since you don't have to deal with unhooking overlapping cords on two 12 volt lead acid batteries. They also do have Lithium batteries with larger capacity such as 75ah and 100Ah, the technology is getting there!
MOSEWORTH 24V Lithium Battery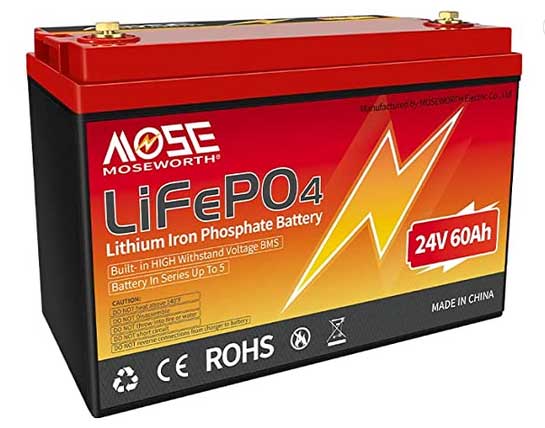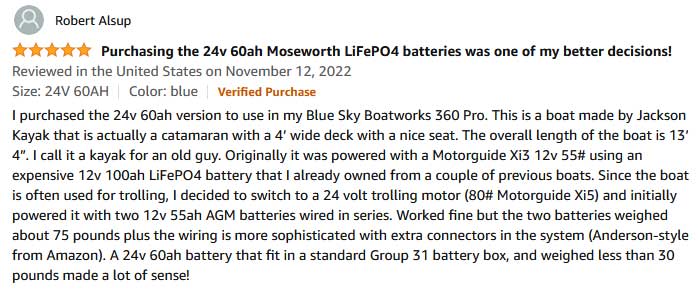 Some other reports of happy Dakota battery owners, especially those that kayak fish and can save on weight! Like I said, in hobbies like muscle cars there's a lot of hobbyists hating on this new lithium battery technology, but in other hobbies, they are appreciating it a lot more such as kayak fishing!
There's definitely a lot of fads within our culture I think human beings get caught up in... It amazes me a lot of people don't think about the positives for other sports, I for one am actually looking forward to the electric boat.
And here's the thing, if you do your own research, not let people think for you, influence you, and actually think for yourself once in your life, you'd realize that there's a hydrogen plant already being opened up in Michigan. Meaning, electric powered muscle car era may be short lived, we may go onto something cleaner such as Hydrogen, remind you Toyota CEO just announced their ditching EVs and centering their business around Hydrogen, hint hint! What I know about Japanese engineering is, they're always ahead of the game - "Released in Japan in 1997, the Prius became the world's first mass-produced hybrid electric vehicle." Last time I looked, the top musky and bass reels are made by Shimano and Daiwa!
If you think we're going to stay on "dead plants forever, aka fossil fuels" as Dr. Michio Kaku put it, you're completely out of touch with reality or should I say you've got another thing coming. Future is here, jump on board!
"Now is not a good time to be set in your ways, future is here, jump on board, train is leaving the station!"

Looks like musky guide Doug Wegner has jumped on board the new technological lithium battery band wagon!