I'm always trying to think outside the box for Musky... Everyone always thinks you gotta go to Canada to certain spots to have consistency with musky and 50 inchers, how many locals night fish? Talked to a dude over at the Coast Guard pier that night fishes for monster Esox and makes his own baits. While I will be targeting musky on top this year with topwater baits like the Fat Bastard over at Black Creek and possibly down Clinton/Spillway river in the shallows to show there's a different way to fish for this species, which to be honest with you I've already shown, but I'm also gonna do some night fishing videos too...

Giant musky I caught in the shallows on an untraditional big bass bait called the Strike King 8.0 for musky using an untraditional method like trolling off a Hobie Kayak, in fact I caught three different species that day: a tiger musky, spotted great lakes musky and northern pike! I was blessed...

A great video showing you can find musky where you least expect it like in the "shallows" of a river that has "current," remember musky love current, river is always colder temperatures too, so fishing these spots in middle of summer can still work!
RIP Doug Hannon! Like Doug says, it's an easier way to target a species, they're less prone to seeing your line, the darkness throws their sight off so they're more likely to bite, you can sort of ambush these fish when they're least expecting it... I know my friend the Greek Yooper said he lost one of his biggest pike ever at the Grosse Shores Park at night time back in the 90s, he said the tail was frickin massive!!!! Could have been a musky for he'll known...
"If everyone jumped off bridge, would you?" Reminds me of the idiots that bombarded me with comments when I started musky fishing saying "you have to use a baitcaster when musky fishing." I don't have to do shit, shut your mouth, mind your own business and fish! Like I said in this video of finding your own rhythm with fishing, I think if it wasn't starting off with spinning first, I wouldn't have found a creative way to use lighter baits to target musky like the Strike King 8.0 squarebill and make my own modified musky lures like my custom spinnerbait, just like Eddie Van Halen did with customizing his own guitar, because he couldn't afford a expensive guitar/baitaster, he made his own guitar what we know now as the Frankestrat!
It's just like how the Americans and Canadians dump the puck with hockey, the Russians conquered us in hockey for so long and it took a "miracle," make an aka dream team, to beat their style of hockey. Always a different way to play a sport, always... Remember that! Ignore the trolls and talking bobble heads... Let them talk, because that's all they're good at is bullshitting... They can't see past their closed minds and see that they're set in their ways.
Maybe you can see the pattern to what these two gigantic musky have in commmon, one is a tiger musky from Washington, another is a giant 60 inch record musky from the St. Lawrence River by Dale MacNair... The pattern is "night time."
Remember, "patterns," there's a lot of Predators that are active at night(coyotes, foxes, bobcats, etc... "List is long, but so is my Johnson!" Remember, it's just like the song freaks come out at night. I suspect finding the patterns when full moon lunar phases hit might be even better, because a full moon my illuminate the water a little more, just a hunch! When I used to bow hunt, I'd stick it out till dusk just to see what comes out night, not poaching of course, but to just see what I could see and analyze these animals. I saw a slew of does cross corn field once before nightfall, then heard a giant deer march right up to the tree line once, he waited until dusk set in and then the giant 10 point buck ran across the field. I also witnessed two giant bucks clash together right at night time, animals are more active at night then you think and not as stupid as you might think, remember age and experience makes these older fish wiser just like the big bucks! And since there's no law against fishing for musky at night and it's not considered poaching, imagine the opportunity, no fishing pressure, no boat traffic etc... As my brother used to say, one of the reasons Canadian side is so effective for musky is less boat traffic, you can bet your ass that these wiser musky sense these things!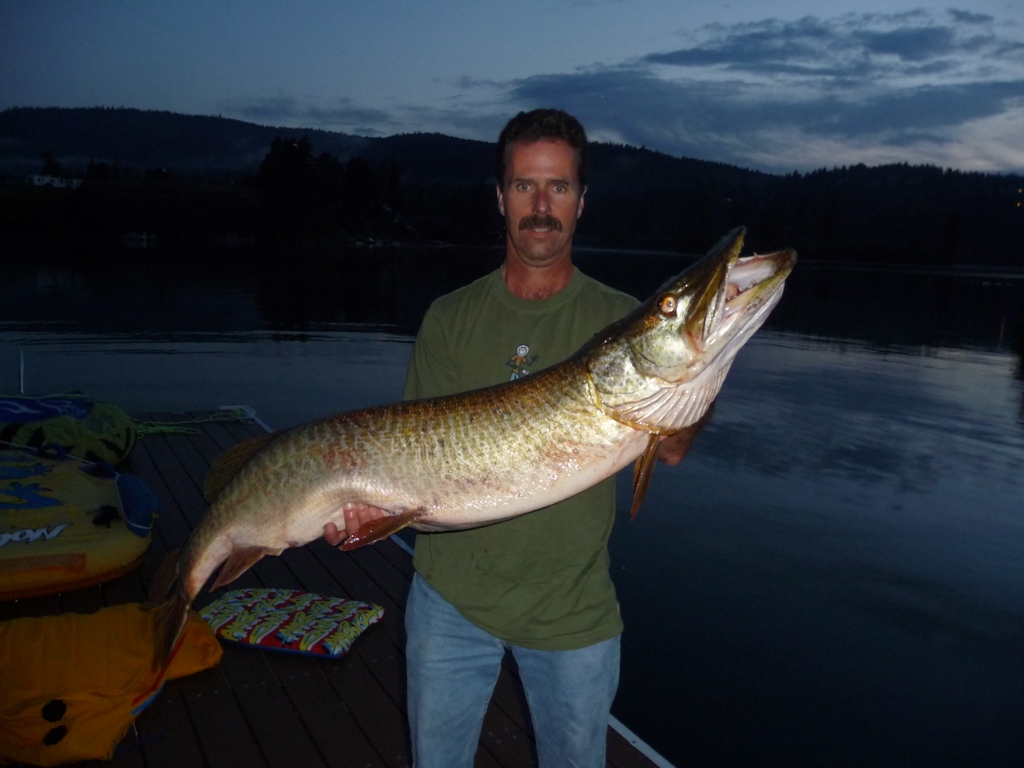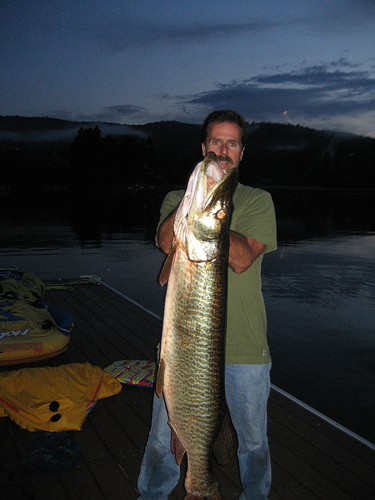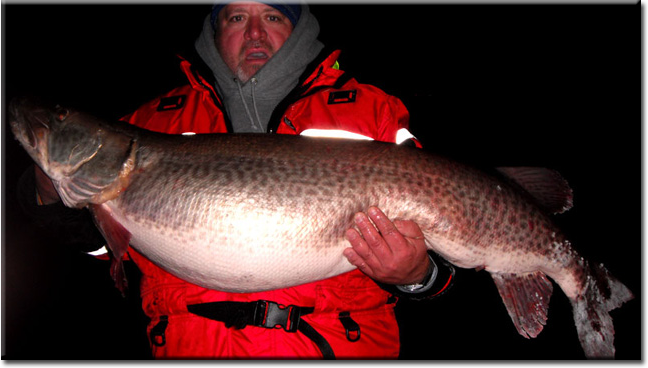 And remember, a lot of fishermen call it quits right before dusk because they have a tendency to think this is the time I go home so I can get a good night rest before work, please stick it out for another hour, dusk is prime time for the big ones!
Next things you'll need to find out is, what type of equipment you'll need to use to illuminate the area you're fishing at and what to use to repel mosquitoes away... Two big obstacles! I really like this video an angler made, it's a light shaped kind of like the new LED street lights, built on a telescopic pole and you can change the direction to where it's pointed at.